Lowdermilk Student Achievement Awards
Annually, the Fayetteville Rotary presents the Lowdermilk Student Achievement Awards to Methodist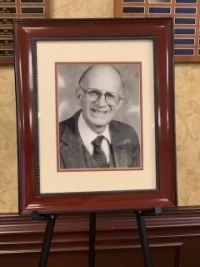 University students to honor long-time Rotarian Dr. William P. Lowdermilk. Established in 1995, the awards were created to honor Lowdermilk for his service to Rotary and to Methodist by exposing students to the concepts of values and ethics in the workplace.
Lowdermilk joined Methodist in 1963 and held several roles for 35 years. At the time of his retirement, he served as Vice President for Church and Community Relations (1985). After retirement, he served on the MU Board of Trustees. A long-time Rotarian, Lowdermilk advocated nurturing moral value and teaching ethical decision-making in all his positions, which mirrored his dedication to Rotary and belief in the Rotary 4-Way Test. The Lowdermilk Student Achievement Awards are funded through a Methodist University Endowment fund established to honor Lowdermilk. Since the first awards were presented in 1995, more than 200 students have benefited from the endowment.
In April 2023, six students received a combined $25,000 tuition credits and cash as recipients of Lowdermilk Achievement Awards. Students recognized were Jalessa Batchelor (Pompano Beach, Fla), RJ Belk (Swansboro), Zachary Butrite (Leland), Kendal Cahill (Currituck), Harper Fordham (Columbia, SC) and Rebeccah Haigler (Cameron, SC).
2023 Lowdermilk Student Achievement Award Winners